Tue 21 May 2013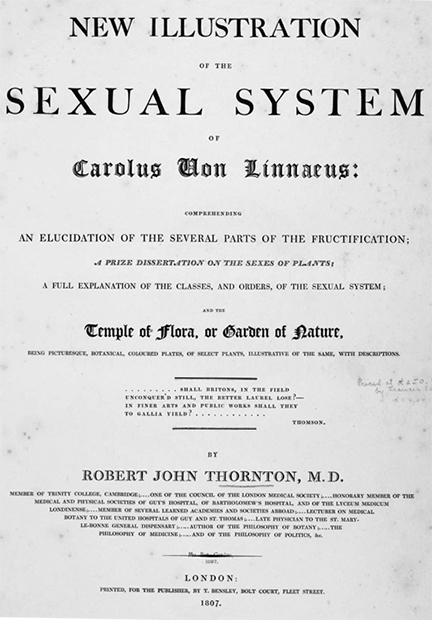 Few names are more revered in the early history of botany than Linnaeus, whose taxonomic system systematized the effective ordering of plants and animals according to sexual reproduction. Although he himself did not doubt that certain genera were created by the God of Genesis, his system could easily be adapted after Darwin introduced a mechanism that challenged the previous dogma of "fixity of species" since Eden. There were numerous artists who contributed to drawing the vast amount of new plants and animals that Linnaeus began to classify. One of my favorite works is by the physician Robert John Thornton, a fellow of Trinity College, Cambridge, who in 1807 published his New Illustration of the Sexual System of Carolus von Linnaeus.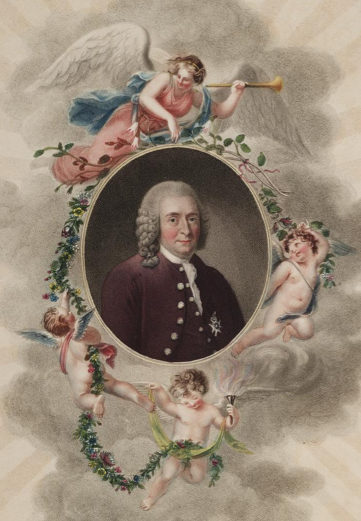 Robert John Thornton
Thanks to archive.org, this beautiful volume can be read online. This is a delightful read, when it is not possible to visit a real garden. The volume is dedicated to the British queen, and begins with the following metaphor:
In Eastern Language high and mighty Potentates are compared to lofty Trees which afford Food and Shade to the sun-burnt Traveller. In the more temperate Regions of the Earth, Kings and Princes are contemplated as the Sun, which sheds his benign Radiance everywhere, inspiring each Object with new Life and Refreshment: by the Concurrence, therefore, of all Nations, the great Attribute of Sovereignty is Protection-, from conferring of which by Your Most Gracious Majesty, the Science of Botany in Great Britain chiefly owes its present Advancement…
The text consists of charts explaining botanical terms and a series of illustrations and basic descriptions of flowers. I present here the pages dealing with the blue Egyptian water-lily (Nymphaea coreulia), with the exquisite image of the plant.