Sun 9 Mar 2014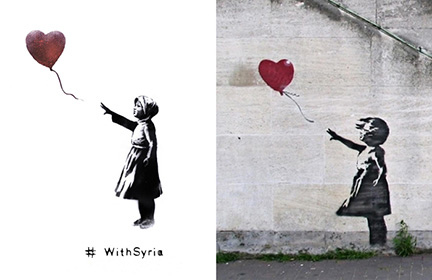 Banksy's two girls: #WithSyria campaign (L) and "There is always hope" (R)
by Hisham Ashkar, on/off..but mostly off, March 7, 2014
Ahead of the third anniversary of the Syrian uprising, a coalition of international organizations was formed, #WithSyria, urging people around the world to hold vigils on 15 March, with the aim to "show our leaders that we will not give up on the people of Syria, that they must act to bring an end to the bloodshed and to get aid to all those who need it."
Among the organizations, we can find Amnesty International, Save the Children, Reporters Sans Frontières and the Church of England.
In their mobilization effort, they recruited Banksy, and indeed the famous anonymous British graffiti artist didn't fail to impress us once again. He produced an original Banksy for the campaign, that Amnesty proudly twitted it.
This new Banksy reminds us of an old Banksy: A young girl losing a heart-shaped balloon to the wind. Behind her on the staircase is written "There is always hope." The graffiti was made in 2007.
For #WithSyria campaign, the little girl was given a veil. Well yes, it's very logical! Syria is a Muslim country. Muslim women are dotted with veils. So to be politically correct , and to take in consideration and not to offend the feeling of Muslims, the little girl wears a veil.
Maybe Banksy didn't thought much of that while drawing his work. But this reveals an unbearable amount of ignorance, stereotyping and orientalism, not only from Banksy, but also from the organizations in #WithSyria camapign. (more…)