Thu 2 Oct 2014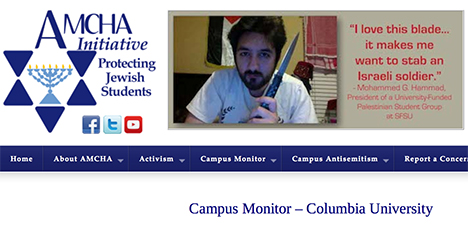 Statement by Jewish Studies Professors in North America Regarding the Amcha Initiative
Forward, October 1, 2014
We the undersigned are professors of Jewish studies at North American universities.
Several of us have also headed programs and centers in Jewish studies. Many of us have worked hard to nurture serious, sustained study of Israeli politics and culture on our home campuses and elsewhere.
It is in this latter regard that we call attention to the activities of an organization called the AMCHA Initiative whose mission is "investigating, educating about, and combatting antisemitism at institutions of higher learning in America." Most recently, AMCHA has undertaken to monitor centers for Middle Eastern studies on American campuses including producing a lengthy report on UCLA's in which that center is accused of antisemitism.
AMCHA has also circulated a list of more than 200 Middle Eastern studies faculty whom it urges Jewish students and others to avoid because, it asserts, they espouse anti-Zionist andeven antisemitic viewpoints in their classrooms.
It goes without saying that we, as students of antisemitism, are unequivocally opposed to any and all traces of this scourge. That said, we find the actions of AMCHA deplorable.
Its technique of monitoring lectures, symposia and conferences strains the basic principle of academic freedom on which the American university is built. Moreover, its definition of antisemitism is so undiscriminating as to be meaningless. Instead of encouraging openness through its efforts, AMCHA's approach closes off all but the most narrow intellectual directions and has a chilling effect on research and teaching. AMCHA's methods lend little support to Israel, whose very survival depends on free, open, and vigorous debate about its future. (more…)